Another Cafe
1191 Pine Street
San Francisco, CA 94109
Another Cafe
We're a neighborhood cafe located at the edge of Nob Hill and provide a great tasting organic coffee from San Francisco's "Bicycle Coffee".
We pride ourselves in offering excellent coffee and food that is carefully prepared. Our menu includes:
Coffee • Tea and other hot drinks • Juice • Pastries
Panini • Bagels • Salads • Breakfast Sandwiches
The cafe has a clean and bright atmosphere with indoor/outdoor seating and Free WiFi, which has helped Another Cafe establish itself as a community hub in the neighborhood.

Address
1191 Pine St. (Corner of Pine and Leavenworth)
San Francisco, CA 94109
Tel: 415-857-5770
Email: info@anothercafesf.com
Hours
Open Weekdays 7:00 am to 7:00 pm and
Weekends 7:00 am to 7:00 pm
Send us your feedback
We would love to hear your comments and suggestions.
Serving Bicycle Coffee
Bicycle Coffee is all about delivering great-tasting coffee by bicycle. They only roast organic, fair-trade, hand-picked, and shade grown Arabica beans. Bicycle coffee delivers freshly roasted bags of coffee to offices, grocery stores, and cafes in San Francisco, Oakland, and Berkeley.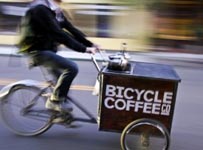 Bicycle Coffee's custom-built, small batch roaster allows them to roast our coffee exactly how we like it. The beans change seasonally, but they always offer medium, dark, and decaf roasts.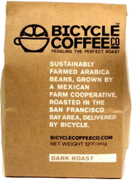 Dark Roast
Union Majomut Cooperative.
Chiapas, Mexico.
Certimex Certified Organic.
Papers/Certification.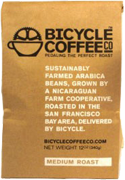 Medium Roast
Flor de Dalia Cooperative.
Segovia District, Nicaragua.
BIO Latina Certified Organic.
Papers/Certification.